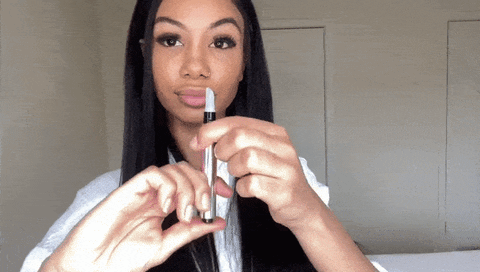 The Lip Plumping Serum is a revolutionary formulated serum giving you instantly plumper, fuller and softer lips.
Unlike other lip plumping applications on the market you have total control with ours! You can play it safe with a hint of plump or go extreme for totally amazing lips that will make you stand out from the crowd and have your girlfriends guessing!
The Lip Plumping Serum is a great way to instantly enhance the profile of your lips without the need for fillers, surgery or potentially dangerous suction methods.
What You Will Get?
3ml of our amazing lip plumping formula in a stylish precision click tip applicator.
Amazing plumper lips from the first application.
Why It's Loved: 
You're in control. Keep it subtle with one click or use three clicks for extreme lip plumping results.
Enhance your lips the natural way, without the need for fillers or surgery.
Absorbs completely. Can be used with your favourite lipstick or gloss.
Up to 10-12 hours of plumpness with one application.
Good to know: 100% Vegan, Cruelty Free and No Parabens.
How To Use
It takes just 4 simple steps to achieve your perfect lips and pout with the Lip Plumper Serum:


Prepare your lips using a hydrating lip moisturiser, to ensure your lips are healthy and ready to be plumped up!


If using for the first time, you may need to click the pen several times to disperse the serum. You can then control the size of your pout by dispensing different amounts of serum - 1 click = low, 2 clicks = medium and 3 clicks = high.


Apply the product evenly to your lips using the pen. Can you feel the heat and tingle yet?


Within 10 -12 minutes, your lips will feel plumper, fuller and softer! The incredible serum formula (all developed in Australia!) will have fully absorbed into your lips, meaning you can apply any lipsticks or lip glosses to complete your look.


Use your Lip Plumper Serum as often as you like - as the product is totally safe, there's no limit on how much you can use it. Have plump lips 24/7, the safe way!


THINGS TO NOTE:
- A warm and tingling sensation does occur when you apply the Lip Plumper Serum, so we'd advise testing your tolerance first using just one click, before increasing the applied serum.
- Ensure the applicator tip is clean after each use.
- Please remember, this product contains capsicum! 
- Keep out of reach of children.
- Don't apply Lip Plumper Serum with your fingers - trust us, the pen is always better!
- If the product gets in your eyes, rinse thoroughly with water and consult a doctor if required.
** Please Note: Results may vary from person to person and this product can't change the anatomy of your lips, as it acts as an enhancer only. Don't use this product if you have cracked, dry or cut lips, this product should only be applied on the lip region, do not get it on the skin around your lips or anywhere near your eyes, not suitable for sensitive skin. Do not use if pregnant or nursing without professional advice. If you are under the age of 18, please seek parent's permission before buying.
Ingredients
WATER, HYDROXYPROPYL STARCH PHOSPHATE , SODIUM ACRYLATES/C10-30 ALKYL ACRYLATE CROSSPOLYMER, TRIETHANOLAMINE, GLYCERIN, PEG-100 STEARATE, GLYCERYL STEARATE, DIMETHICONE, CETEARYL ALCOHOL, VANILLYL BUTYL ETHER, CAPSICUM ANNUUM EXTRACT, PHENOXYETHANOL
Shipping
We offer FREE STANDARD SHIPPING worldwide.

FREE Standard Shipping within Australia takes 4-10 business days
Express Shipping within Australia takes 3-5 business days 

International Standard Shipping takes 6-15 business days.

** All shipping times are estimates as provided by our shipping and courier companies.
Money Back Guarantee
We offer a 100% Risk-free 7-day Money-Back Guarantee on all of our Products. We understand that individual results vary so we offer a 7 day money back guarantee (refer to Refunds & Returns). If you do not get any results at all, simply contact our team at info@manikinnbeauty.com